'Plane' Flies High as a Fun and Action-Packed Gerard Butler Vehicle
Gerard Butler and Mike Colter make a great action duo in this entertaining thriller from director Jean-François Richet, which is reminiscent of 'Con Air.'
' Plane ,' the new action-thriller from director Jean-François Richet (' Assault on Precinct 13 '), is scheduled to crash-land into theaters on January 13th.
Gerard Butler stars as commercial pilot Brodie Torrance, who is traveling on New Year's Eve with a plane full of passengers, including FBI transport and accused murderer Louis Gaspare ( Mike Colter ).
But when the plane is forced to make an emergency landing, Torrance saves his passengers by landing on a remote island, only to find that it is inhabited by a dangerous group of rebels. When the passengers are taken hostage, Torrance and Gaspare must learn to trust each other and work together in order to rescue them and survive.
The result is a fun and entertaining action-adventure that has elements of ' Con Air ,' ' The Grey ,' ' Speed ,' and even ' Sully ,' and features a great onscreen duo in Butler and Colter.
In some ways, Gerard Butler is one of the most reliable movie stars working today. He created a strong action franchise with the ' Olympus Has Fallen ' trilogy, and had such success with one-off movies like ' Law Abiding Citizen ' and ' Den of Thieves ' that sequels are in the works for each. He's also appeared in a string of successful action movies like ' Geostorm ,' ' Copshop ,' and ' Greenland .'
With 'Plane' Butler adds another entertaining action movie to his resume and also continues to create believable "everyman" characters for the audience to relate to. In a world that is dominated by superhero movies, it's nice to see a fillm about an "ordinary man in an extraordinary situation" that audiences can actually relate to. Butler has wisely shed the superhero persona that made him a household name with ' 300 ,' for an "everyman" persona that he has played well in films like 'Greenland' and now 'Plane.'
Mike Colter, who should be a much bigger star than he is, is probably best known for his work as the title character on Netflix 's Marvel series 'Luke Cage,' as well as the CBS series 'Evil.' Colter gives a strong performance as convict Louis Gaspare, and is a great partner for Butler. The two actors have a strong chemistry together, and I enjoyed the fact that they left Gaspare's backstory a mystery, as it was not necessary and adds to the mystic of his character.
Director Jean-François Richet really packs the movie with incredible action sequences, including the crash landing that begins the film. But the action doesn't stop there, as that is only the beginning and the movie features some great shoot-outs and fight scenes with both Butler and Colter. However, the film also features several quieter moments that allow the audience a better chance to understand these character's emotions, thanks to a fairly smart script from screenwriters Charles Cumming and J.P. Davis.
Veteran character actors Paul Ben-Victor and Tony Goldwyn make welcomed additions to the cast as the airline owner and his crisis manager, respectively. While Butler and Colter are obviously the leads, it certainly helped the integrity of the project to sprinkle in such talented and respected actors in supporting roles.
Actress Daniella Pineda , who plays flight attendant Bonnie, is fine in her role, but has limited screen time and could have been given more to do. The weakest point in the cast is probably the rebels. They do the most with what is given, but ultimately the villains were tragically underwritten. It works for a while, having the rebel forces' true motivations a mystery to both the audience and the other characters, but once they are revealed, little is done to humanize them or make their point of view clear.
In the end, director Jean-François Richet delivers a fun and entertaining action movie that combines elements we've seen before but does it in a new and fresh way. Gerard Butler continues his success at turning otherwise "B-Movies" into entertaining theatrical experiences, with some help from Mike Colter's strong performance and the two actors great onscreen chemistry together.
'Plane' receives 7.5 out of 10 stars.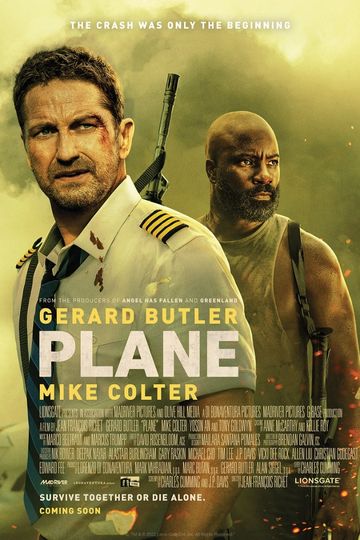 "Survive together or die alone."
1 hr 47 min
Jan 13th, 2023
Showtimes & Tickets
After a heroic job of successfully landing his storm-damaged aircraft in a war zone, a fearless pilot finds himself between the agendas of multiple militias planning... Read the Plot