Stars Allison Williams and Violet McGraw Back for 'M3GAN 2.0'
The horror thriller has been a huge hit, so this is not a big surprise, but the big question is what kinds of chaos will the killer AI get up to this time?
Even before ' M3GAN ' arrived in theaters the titular doll-sized android has become a cult figure. Between her dance moves and her murders, she's a new pint-sized horror icon joining the likes of Chucky and Annabelle .
Given its thrifty budget (boosted by backers Blumhouse from their usual $5 million tier to around $12 million), the movie's more than $95 million global box office haul since its January 6th debut means it is handily in profit already.
It's almost a no brainer, then, that Blumhouse and co-producers Atomic Monster ( James Wan 's company) would look to get a sequel in the works as soon as possible, with 'M3GAN 2.0' now on the calendar. And that's despite Blumhouse boss Jason Blum 's usual reticence for jumping the gun on sequels. "After I first saw the movie, we had a good sense that a sequel might really work," he told Variety a few days ago. "So, we broke our cardinal rule and we started talking about a sequel before the movie was released. I felt so bullish that we started entertaining a sequel earlier than we usually do."
'M3GAN' in case you've yet to see it, tells the story of tech toy creator Gemma ( Allison Williams ) who designs M3GAN (Model 3 Generative Android), who can listen, watch and learn as it plays the role of friend and teacher, playmate and protector.
When Gemma becomes the unexpected caretaker of her 8-year-old niece, ( Violet McGraw 's Cady, orphaned in a tragic accident) she decides to give the girl a M3GAN prototype (brought to life by a combo of actress/dancer Amie Donald , the voice of Jenna Davis and some CG additions), a decision that leads to unimaginable consequences. Murder bot consequences. There, we imagined it for you.
In short, M3GAN, who pledges to protect Cady at all costs, starts a campaign of terror against anyone who dares threaten the girl. Soon, kids are being lured into traffic, others are stabbed and it'll be up to Gemma and Cady to shut down the killing spree. It's campy, often hilarious horror.
We won't give away here exactly what happens in the big finale but suffice to say there are hints that M3GAN could return––whether it's in her doll form or some other way. The joy of being an AI for her is that she can go anywhere she wants and the possibilities are endless.
The challenge of figuring all that out now rests with writer Akela Cooper, who worked on the first film's story alongside Wan and wrote the eventual script. Williams and McGraw will both return in front of the camera, but there's no news yet on whether director Gerard Johnstone is coming back for more M3GAN madness.
It's yet another success for the Blumhouse team, which has gained a real reputation for low-budget horror hits and is currently exploring a merger with Wan's Atomic Monster company, itself no slouch in the scary franchise department.
Universal has dated 'M3GAN 2.0' for January 17th, 2025.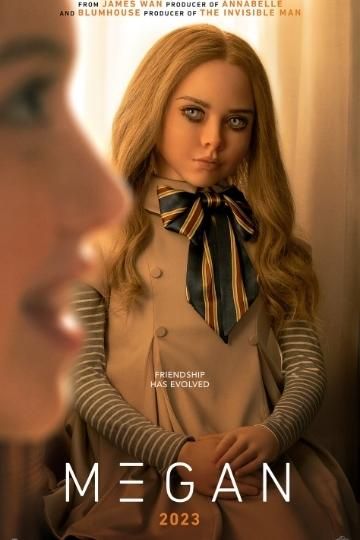 "Friendship has evolved."
1 hr 42 min
Jan 6th, 2023
Showtimes & Tickets
A brilliant toy company roboticist uses artificial intelligence to develop M3GAN, a life-like doll programmed to emotionally bond with her newly orphaned niece.... Read the Plot