Musician David Crosby Dies, Age 81
A founder member of Crosby, Stills, Nash and Young and a multiple inductee into the Rock and Roll Hall of Fame, "Croz" leaves an impact on both music and movies.
Singer/songwriter and famed guitarist David Crosby , who also made his mark on the world of movies, has died. He was 81.
And his ties to Hollywood began from the start of his life, even if he largely chose music over film. Crosby was born in Los Angeles on August 14, 1941, the son of Academy Award-winning cinematographer Floyd Crosby. He dropped out of drama school to pursue a career in music, touring the folk club circuit and recording as a member of the Les Baxter Balladeers. Crosby cut his first solo session in late 1963; early the following year he formed the Jet Set with Roger McGuinn and Gene Clark , and with the additions of bassist Chris Hillman and drummer Michael Clarke , the group was rechristened The Byrds.
Although McGuinn chiefly pioneered the Byrds' trademark 12-string guitar sound, Crosby's interest in jazz and Indian music also influenced their subsequent excursions into psychedelia. But he left the group after creative differences.
After a stint as a solo artists, Crosby started jamming with ex-Buffalo Springfield singer/guitarist Stephen Stills . They were joined by ex- Hollies member Graham Nash ; and Crosby, Stills & Nash 's 1969 debut LP pushed all three to greater fame. The addition of Stills' former Buffalo Springfield bandmate Neil Young expanded the group to a four-piece, and in August of 1969 Crosby, Stills, Nash & Young ( CSNY ) made just their second live appearance to date at the Woodstock Festival .
They enjoyed huge success with their various albums, but Crosby also struggled with drug addiction (and was unfairly tagged as one of the poster children for excess and narcotics). He ended up in prison after fleeing rehab but eventually beat his demons and reconnected with his bandmates for regular tours while working with other musicians and working on solo projects. He also famously fathered a child for fellow musician Melissa Etheridge and her partner Julie Cypher and penned two memoirs.
On the movie front, he was the subject of a documentary, ' David Crosby: Remember My Name ', produced by Cameron Crowe and directed by AJ Eaton.
Crosby's music has graced many a movie soundtrack, but he also appeared in front of the camera a few times, including as a '70s hippie in ' Backdraft ' and as Tickles in ' Hook '.
"It is with a deep and profound sadness that I learned that my friend David Crosby has passed," Graham Nash wrote. "I know people tend to focus on how volatile our relationship has been at times, but what has always mattered to David and me more than anything was the pure joy of the music we created together, the sound we discovered with one another, and the deep friendship we shared over all these many long years. David was fearless in life and in music. He leaves behind a tremendous void as far as sheer personality and talent in this world. He spoke his mind, his heart, and his passion through his beautiful music and leaves an incredible legacy. These are the things that matter most. My heart is truly with his wife, Jan, his son, Django, and all of the people he has touched in this world."
Crosby is survived by his wife Jan Dance , their son Django, son James Raymond, and two daughters, Erika and Donovan, from previous relationships.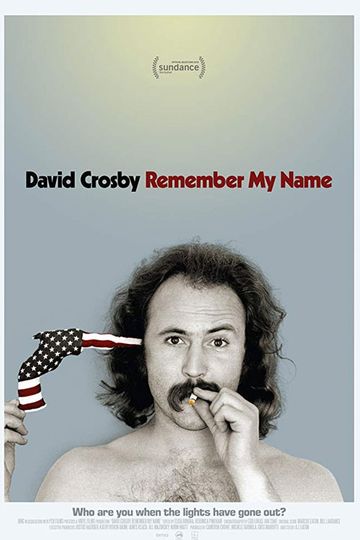 "Who are you when the lights have gone out?"
1 hr 35 min
Oct 22nd, 2019